Plastic or metal? Retractable or twist? Rollerball or super glide? Brand name or generic? Should it have a grip? What color should it be?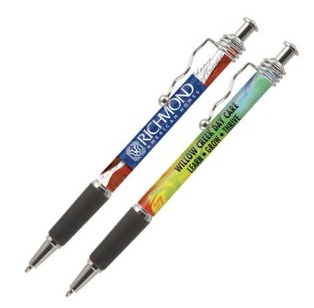 The options for your personalized, business-branded pens are endless at National Pen, but sometimes it gets harder to decide with the more choices you have. Fear not! Choosing the perfect pen for your business is easy if you know what questions to ask. So, to ease your promotional pen-shopping anxiety, we've put together a list of three simple questions (and possible answers), to help you guide yourself towards the best custom pen for your company.
Question 1: What does your business do? How would you like it to be represented?
It's important to consider the general attitude of your company. Fun? Serious? Professional? Creative? The nature of a company is usually somewhat defined by the nature of its work, and ideally, your pen should reflect this. For example, a design firm might prefer a uniquely shaped, contemporary looking pen (like a squiggle pen), while a hospital might lean towards something more practical or conventional (like the Executive Cirrus).
Question 2: What pen works with your company logo?
Different pens have varying imprint specifications, and finding the one that works best with the shape and color of your logo is imperative to successful production. Is your logo round? Vertical? Horizontal? In addition to size, consider the color of your pens. 1 color? 4 color? Do you want your logo printed on the pen, or engraved? When it comes to the technical stuff, feel free to contact us with any questions you have and we.ll help you find the right model for the design you're envisioning.
Question 3: How will your pens be used?
While we'd all love to hand out the "le cre de le cre" of writing instruments to trade show passerby and clients, we know that marketing budgets don't always allow for it. Compare the importance of quantity and quality. Will you be retailing your personalized pens, or simply using them as free promotional takeaways? At National Pen, we pride ourselves on affordable quality, so let us point you to the pen that.ll serve your needs best, for the best value.
There you have it: a pen-shopping guide that.s as easy as 1-2-3.